Welcome to WordPress. This is your first post. Edit or delete it, then start blogging!
next post »
Stories test post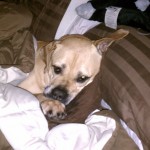 This is where the current pet story will go. There will also be an archive for older story entries. This particular post will be deleted once the first story is posted. For now, here's a happy dog picture!
Posts with similar tags
No post with similar tags yet.
Posts in similar categories
No post with similar categories yet.
About Dog Tales
Welcome to Dog Tales Grooming & Pet Care, serving the Portland, East Hampton, Middletown and South Glastonbury areas of Connecticut since 2008. Dog Tales is owned and operated by Michael and Louise Walsh. Four years ago we turned our love for dogs into a ... (more)